Historisk värdeutveckling
2022-08-31
Ändring av 1.000 (SEK)
Avancerad graf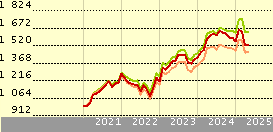 Fond
-
-
-3,7
27,9
-10,7
+/-Kategori
-
-
1,9
1,9
0,6
+/-Index
-
-
3,9
-0,4
-2,3
 
Jämförelseindex för kategorin: MSCI Europe NR EUR
Basfakta
Slutkurs
2022-09-29
 
EUR 23,71
Ändring NAV en dag
 
-1,54%
Morningstar Kategori™
 
Europa, mix bolag
Volym
 
18715
Aktiebörs
 
BORSA ITALIANA S.P.A.
 
LU1940199711
Fondens förmögenhet (milj)
2022-09-27
 
EUR 1275,14
Andelsklassens storlek (milj)
2022-09-27
 
EUR 1199,95
Fondens avgifter
2022-06-01
 
0,20%

*  This rating and report were issued for a different share class of this fund. The performance and fee structure of this class may vary from that referenced.
Placeringsinriktning: Lyxor MSCI Europe ESG Leaders (DR) UCITS ETF - Acc (EUR) | ESGE
The Sub-Fund is an index-tracking UCITS passively managed. This Sub-Fund promotes environmental and/or social characteristics within the meaning of article 8 of SFDR. The Reference Currency of the Sub-Fund is the Euro (EUR). The investment objective of sub-fund is to track both the upward and the downward evolution of the MSCI Europe ESG Leaders Net Total Return Index (the "Index") denominated in Euros in order to offer an exposure to the performance of large and mid cap stocks, across developed European countries, issued by companies having a high Environmental, Social and Governance (ESG) ratings – while minimizing the volatility of the difference between the return of the Sub-Fund and the return of the Index ("Tracking Error").
Historisk avkastning
| | |
| --- | --- |
| Avkastning % | 2022-09-29 |
| I år | -16,01 |
| 3 år, per år | 2,79 |
| 5 år, per år | - |
| 10 år, per år | - |
| | | |
| --- | --- | --- |
| 12 månaders ränta (Yield) |   | 0,00 |
Förvaltning
Namn på ansvarig förvaltare
Sedan datum
Salah Benaissa
2019-02-12
Raphaël Dieterlen
2019-02-12
Startdatum
2019-02-12
Jämförelseindex för kategorin
Fondens eget jämförelseindex
Morningstars index för kategorin
MSCI Europe ESG Leaders NR LCL
MSCI Europe NR EUR
Målgrupp
Roll i portfölj
Kärna / ensamt innehav
Kanske
Komponent i portfölj
Kanske
Övrigt
Kanske
Huvudsakligt mål
Bevara kapitalet
Kanske
Värdeökning
Ja
Direktavkastning
Kanske
Hedge / riskspridning
Kanske
Övrigt
Kanske
Innehav i portföljen:  Lyxor MSCI Europe ESG Leaders (DR) UCITS ETF - Acc (EUR) | ESGE
2022-09-22
Morningstar Style Box®
Typ av aktier
Tillgångsfördelning (allokering)
 
% lång
% kort
% netto
Aktier
100,00
0,00
100,00
Obligationer
0,00
0,00
0,00
Kontanter
0,00
0,00
0,00
Annat
0,00
0,00
0,00
| | |
| --- | --- |
| Topp 5 regioner | % |
| Eurozone | 45,29 |
| Europe - ex Euro | 28,15 |
| United Kingdom | 25,12 |
| United States | 1,44 |
| Canada | 0,00 |
Topp 5 branscher
%
Healthcare
19,78
Financial Services
17,09
Industrials
12,22
Consumer Defensive
11,09
Consumer Cyclical
8,15