Historisk värdeutveckling
2022-12-31
Ändring av 1.000 (SEK)
Avancerad graf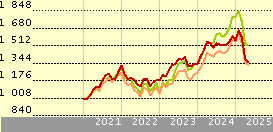 Fond
4,0
37,4
5,9
32,1
-10,7
+/-Kategori
6,9
0,9
-6,1
7,0
5,5
+/-Index
4,6
-2,8
-11,3
3,0
7,1
 
Jämförelseindex för kategorin: MSCI ACWI Growth NR USD
Basfakta
Andelskurs (NAV)
2023-01-27
 
EUR 51,03
Ändring NAV en dag
 
-0,16%
Morningstar Kategori™
 
Global, tillväxtbolag
 
LU0690375182
Fondens förmögenhet (milj)
2023-01-27
 
EUR 8196,48
Andelsklassens storlek (milj)
2023-01-27
 
EUR 1048,47
Max köpavgift
 
-
Fondens avgifter
2022-02-11
 
1,09%
Analyst Report
A highly structured and disciplined investment approach overseen by a long-standing manager are among Fundsmith Equity's many strengths. The best-in-class views on both People and Process result in Morningstar Analyst Ratings of Gold for all...
Klicka här för att läsa vår fondanalys
Morningstar Pillars
People
High
Parent
Över medeltal
Process
High
Performance
Price
Placeringsinriktning: Fundsmith Equity Fund T EUR Acc
The investment objective of the Sub-fund is to achieve long term growth in value. The Sub-fund will invest in equities on a global basis. The Subfund's approach is to be a long-term investor in its chosen stocks. It will not adopt short-term trading strategies.
Historisk avkastning
| | |
| --- | --- |
| Avkastning % | 2023-01-27 |
| I år | 3,19 |
| 3 år, per år | 7,08 |
| 5 år, per år | 12,60 |
| 10 år, per år | 17,65 |
| | | |
| --- | --- | --- |
| 12 månaders ränta (Yield) |   | 0,00 |
Förvaltning
Namn på ansvarig förvaltare
Sedan datum
Terry Smith
2011-11-02
Startdatum
2011-11-02
Jämförelseindex för kategorin
Fondens eget jämförelseindex
Morningstars index för kategorin
MSCI World NR EUR
MSCI ACWI Growth NR USD
Målgrupp
Roll i portfölj
Kärna / ensamt innehav
Kanske
Komponent i portfölj
Kanske
Övrigt
Kanske
Huvudsakligt mål
Bevara kapitalet
Nej
Värdeökning
Ja
Direktavkastning
Kanske
Hedge / riskspridning
Kanske
Övrigt
Kanske
Innehav i portföljen:  Fundsmith Equity Fund T EUR Acc
2022-09-30
Morningstar Style Box®
Typ av aktier
Tillgångsfördelning (allokering)
 
% lång
% kort
% netto
Aktier
99,07
0,00
99,07
Obligationer
0,00
0,00
0,00
Kontanter
0,93
0,00
0,93
Annat
0,00
0,00
0,00
| | |
| --- | --- |
| Topp 5 regioner | % |
| United States | 74,88 |
| Eurozone | 12,14 |
| Europe - ex Euro | 8,61 |
| United Kingdom | 4,37 |
| Canada | 0,00 |
Topp 5 branscher
%
Consumer Defensive
33,99
Healthcare
23,39
Technology
13,27
Consumer Cyclical
11,95
Industrials
6,07